USDEC Staff in Action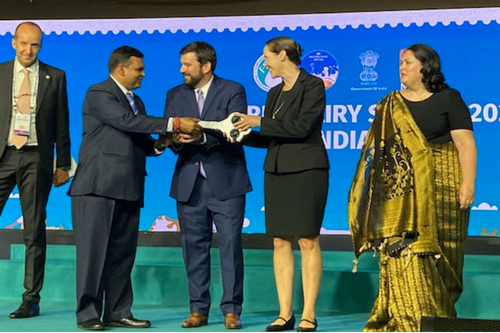 September 14, 2022
The countdown has begun for the 2023 International Dairy Federation (IDF) World Dairy Summit, hosted by the U.S.

During the gala dinner ceremony at this year's Summit, the 2022 host country, India, handed off the symbolic host key to the US-IDF Organizing Committee Co-chairs Nick Gardner, USDEC Senior Vice President of Sustainability and Multilateral Affairs, center, and Shawna Morris, USDEC Senior Vice President of Trade Policy, second from right.
Click below for more information.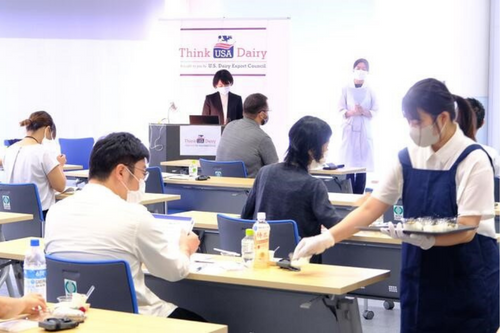 September 8, 2022


Given Japan's vigilant approach to COVID-19 and elevated numbers of new case totals in recent weeks, USDEC was uncertain what kind of response its in-person interactive workshop in early September would generate. It was the first face-to-face ingredients workshop in Japan since the start of the pandemic.


The fact that the event attracted 27 representatives from food and beverage companies speaks to the high degree of interest in using U.S. whey and milk proteins as key ingredients in new product development efforts.


Download full article by clicking below.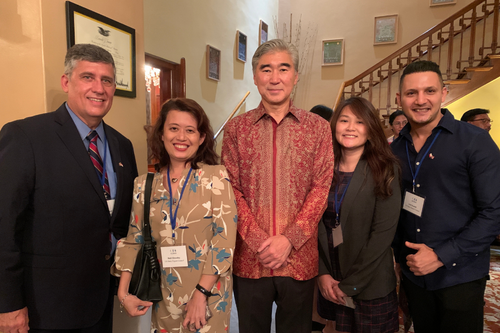 August 24, 2022


For two weeks in August, USDEC Senior Vice President, Market Access and Regulatory Affairs Jonathan Gardner, met with a series of officials in Southeast Asia to talk dairy.


The trip featured an Aug. 24 meeting between senior delegates from the U.S.-ASEAN Business Council (U.S.-ABC) and Indonesian President Joko Widodo (Jokowi) at the Presidential Palace. Another highlight was meeting the U.S. ambassador to Indonesia (see photo at left).


Download a more detailed description of the meetings by clicking below.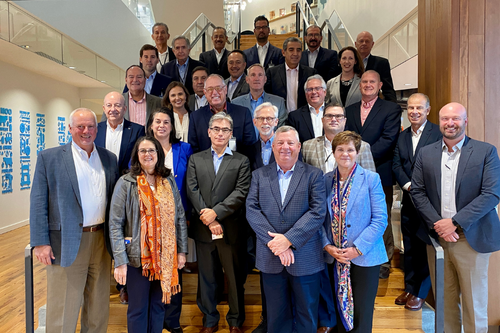 August 17, 2022


USDEC and the National Milk Producers Federation served as U.S. hosts and event organizers for the Binational Dairy Conference in mid-August, which brought together leading dairy representatives from the United States and Mexico.


The dairy leaders agreed to facilitate fair trade between the two nations, while working to expand dairy consumption, enhance dairy farm productivity and strengthen the reputation of milk and dairy products in both countries.


Click below to see a full list of mutually agreed-upon objectives from the conference.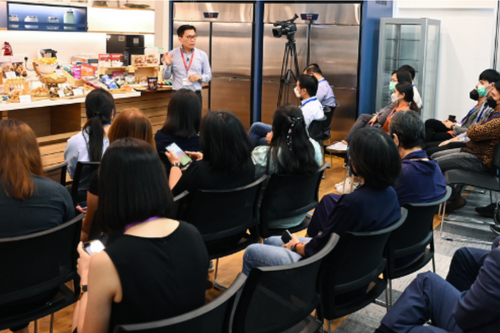 August 1, 2022


With COVID-19 restrictions eased, the U.S. Center for Dairy Excellence in Singapore is ramping up in-person activities. In July, food and beverage product development specialists gathered at the U.S. CDE for a 2.5-day workshop highlighting the innovation potential of U.S. dairy ingredients. "Our aim was to introduce the multi-faceted benefits of U.S. dairy ingredients to inspire food and beverage manufacturers in Southeast Asia to expand product lines with U.S. dairy proteins and permeate," said USDEC's Kristi Saitama.


Click below to learn more.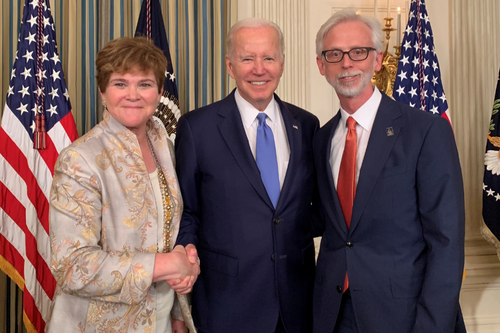 June 16, 2022


USDEC CEO Krysta Harden attended the White House signing ceremony for the Ocean Shipping Reform Act, which sets in motion a series of new rules and regulations regarding ocean carrier practices.


The legislation was introduced in response to the vocal advocacy by NMPF, USDEC and other agricultural export and shipper organizations, as problems with effective ocean freight transportation worsened. USDEC is now urging speedy implementation by the Federal Maritime Commission.


For more details on the new law, click below.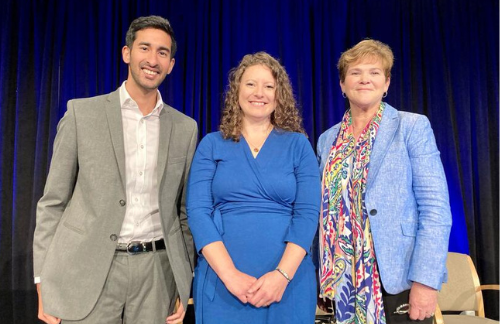 June 8, 2022
At a sustainability conference sponsored by The Economist, USDEC President and CEO Krysta Harden discussed the key role public-private partnerships play in helping the U.S. dairy industry reach its environmental stewardship goals.


Those goals -- greenhouse gas neutrality, optimized water usage and improved water quality by 2050 -- "cannot be done on the backs of farmers," she said. "They are willing. But they need partners."


Click below to read the U.S. Dairy Exporter Blog story, "The need for more dairy sustainability partnerships."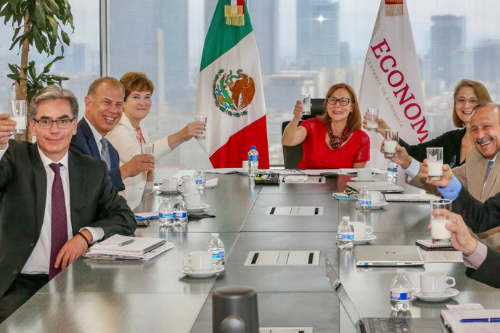 June 1, 2022

USDEC President and CEO Krysta Harden, Executive Vice President Jaime Castaneda and head of the Mexico office Rodrigo Fernandez held a series of meetings in Mexico with dairy and government leaders. The visits, which tied into World Milk Day celebrations, sought to strengthen partnerships in Mexico, reaffirm shared goals of the U.S. and Mexican dairy sectors, and facilitate smooth trade between the two nations.


Click below to see Twitter posts from the meetings.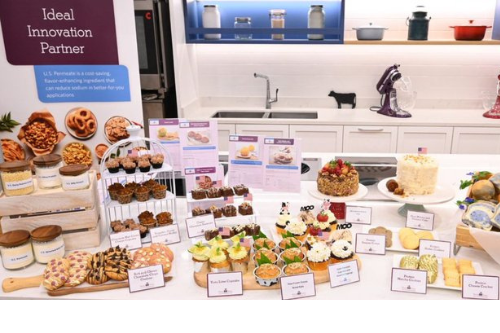 June 1, 2022

On June 1, the U.S. Center for Dairy Excellence hosted a workshop on U.S. permeate use in bakery applications, attracting 120 bakery and confectionery R&D staff and food formulators—in-person and online—from across Southeast Asia.


The workshop is one of a series of events planned for the U.S. CDE this year. The next two seminars are July 13-15 (Healthy Snacking) and August 24 (Protein Beverages).


Click below for article on the popularity of permeate.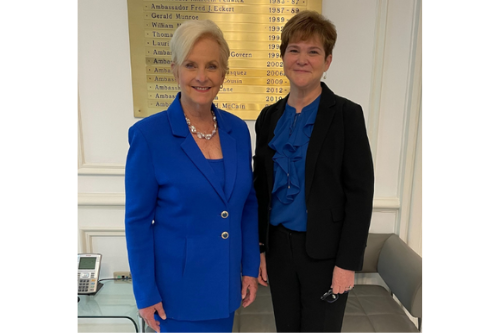 May 25, 2022

USDEC President and CEO Krysta Harden headed a staff delegation to Rome to showcase U.S. dairy's critical role in nutrition security and sustainable food systems.


In a series of meetings, the delegation spoke with Ambassador Cindy McCain, the U.S. Permanent Representative to the United Nations Agencies in Rome; representatives from several nations; senior officials from the UN Food and Agriculture Organization (FAO), and additional diplomats and decision-makers.


Click below for a news release detailing the visits.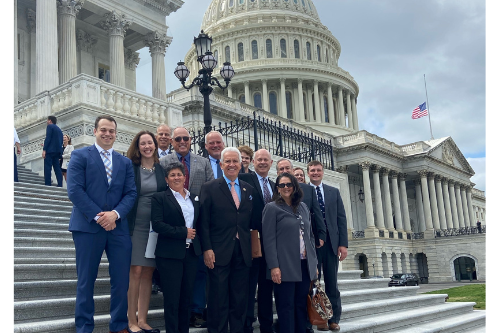 May 12, 2022
USDEC staff and nine members of the USDEC Operating Committee met with congressional representatives and administration officials to highlight U.S. dairy priorities.


USDEC President and CEO Krysta Harden, COO Martha Scott Poindexter, the USDEC Trade Policy team and Operating Committee members emphasized the significant role exports play in U.S. dairy supply chain and the U.S. economy, while also noting ways to enhance the ability of U.S. dairy suppliers to best compete around the globe.


Click below to see Twitter posts from the meetings.