Webinar: Protein Products at the Forefront! Trends From Overseas and New Potential for Japan-Friendly Applications
April 20, 2022
Japan (Virtual)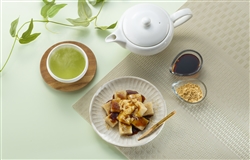 Japanese imports of U.S. WPC80/WPI increased 22% over the prior year to reach a new record of 10,932 metric tons in 2021, breaking through the 10,000 metric ton threshold for the first time. Strong growth in health and wellness positioned products containing dairy proteins underpinned these positive U.S. export gains, and continue to represent future growth opportunities for U.S. dairy suppliers.

This webinar (in Japanese only) will highlight how within an increasingly crowded protein marketplace, U.S. dairy whey and milk proteins deliver an advantageously differentiated and unmatched complete solutions package ideally suited to create winning products tailored for the health needs and flavor preferences of Japanese consumers.

It will explore a wide variety of on-trend product innovation possibilities that leverage the nutritional boost of added protein in a variety of applications from desserts to snack foods and more. It will unveil prototype concepts of everyday Japan-friendly foods, specifically focusing on applications that appeal to older adults and seniors, going beyond traditional protein bars to better fit into local diets. It will also discuss protein quality and its significance in a daily diet, particularly for metabolic health.

Below is a list of presenters and their respective topics.


The Power of Dairy Proteins Fuels On-Trend Innovation: An Exploration of the Evolving Marketplace
Donna Berry
Owner, Dairy & Food Communications
New, Japan-Friendly Concepts for Protein-Boosted Innovations
Food Scientists
Kiyota Sangyo
Understanding Protein Quality and Dairy Protein's Role in Metabolic Health
Matthew Pikosky, PhD, RD
Vice President of Nutrition Research for the National Dairy Council (NDC)

Please contact Allison Guzman at aguzman@usdec.org for additional information.