Hybrid Webinar: Scaling New Heights in Bakery Innovation with U.S. Permeate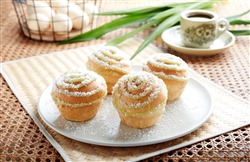 USDEC is hosting the first customer-engagement event at the U.S. Center for Dairy Excellence (U.S. CDE) next month in collaboration with the Singapore Bakery & Confectionery Trade Association (SBCTA), an organization with a mission of promoting the bakery arts industry in Singapore.

On June 1 from 2:00-4:00 Singapore Time (SGT) a hybrid in-person and online two-hour workshop will be held highlighting U.S. permeate's multifaceted Southeast Asia-friendly innovation advantages and bright potential as an attractive ingredient solution for sodium reduction, cost effectiveness and more. Speakers will include Anoo Pothen, Director – Consumer Insights and Martin Teo, Technical Director – Food Applications, both of USDEC's Southeast Asia office.

The session will also include a panel discussion featuring USDEC member representatives discussing how customers can accelerate their business success using U.S. permeate and bring bakery innovation to new heights. This event will be streamed online with the ability for registrants to also watch on-demand later. For further information or additional questions, please reach out to please contact Allison Guzman, aguzman@usdec.org.