Virtual Trade Mission: South America
November 16–18, 2021
South America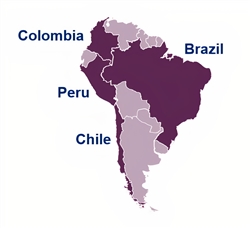 USDEC, in an effort to continue to build upon the export opportunities in South America, is hosting a virtual trade mission. In the current circumstances, we are not able to offer an in-person event but want our members to continue networking and connecting with other customers in the region. This virtual trade mission will feature two days of tailored meetings with regional customers (R&D, purchasing, logistics, and related.) One day will focus on Spanish-speaking customers from Chile, Colombia and Peru and the second day will focus on Brazilian customers.

Kicking off the trade mission on November 16 will be a keynote event to introduce and discuss the market demands in South America. The subsequent two days will be focused on continuing the conversation between members and buyers, strengthening connections, and understanding and further meeting their business needs. Spanish to English and Portuguese to English interpretation will be provided for all three days.
USDEC will be responsible for the scheduling the November 17-18 one-to-one member-customer meetings with the goal of holding as many meetings as possible. This allows members to focus solely on preparation for their meetings. If you have specific customers that you would like to meet, please let us know.
We will share more information and the itinerary for this event once we have it. For members that are interested in participating in the Virtual Trade Mission in South America or want to learn more about how USDEC can help facilitate your virtual experience, let us know by emailing Allison Guzman (aguzman@usdec.org), by October 1.