Marketing Events
Nutrition and Functionality: What You Need to Know About Dairy and Plant-Based Proteins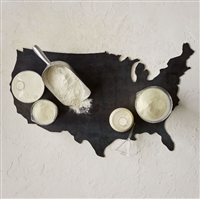 USDEC is helping food and beverage manufacturers in Brazil discover advantages of U.S. dairy proteins through a webinar detailing their functional versatility and nutritional benefits.

The program will feature experts highlighting why dairy proteins stand out from other protein sources as well as innovation opportunities with U.S. dairy proteins, including what makes them especially well-suited to meet formulators' needs when developing and improving products.

Mary Wilcox, Founder of Significant Outcomes, will encourage innovation with U.S. whey and milk proteins, providing guidance for selection based on desired properties in a range of usage opportunities. Matthew Pikosky, PhD Vice-President of Nutrition Research - National Dairy Council, will communicate the importance of protein quality and how dairy proteins distinguish themselves as a higher quality choice. The emphasis on differences in protein quality and its significance will provide Colombian food and beverage manufacturers insight into U.S. dairy proteins' nutritional edge when compared to plant proteins.

USDEC members interested in registering for this webinar may do so here.


To request additional information about these webinars, please email Keith Meyer (kmeyer@usdec.org).