Marketing Events
Webinar: Healthy Active Aging with U.S. Dairy Proteins
November 18, 2020
Singapore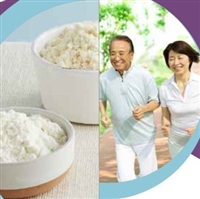 Recent USDEC consumer research1 found that 98% of surveyed health-minded Singaporean and Thai consumers are thinking about healthy aging, but only 49% state they are well prepared for it. That's a very large intention-action gap, and a wide open opportunity for Southeast Asian food and beverage formulators to develop products that help consumers achieve their healthy aging goals.

This webinar will present Japanese and Singaporean nutrition experts' science-backed perspectives on the importance of quality protein consumption for Asian consumers, in combination with physical activity, as an effective nutritional strategy to help reduce sarcopenia risk and support healthy, active aging. The program will highlight why dairy proteins stand out from other protein sources as a complete and high-quality protein source, while also being simple and convenient to incorporate into everyday foods and menus enjoyed by Asian consumers. The program will also present innovation opportunities with U.S. dairy proteins for food and beverage manufacturing companies to meet rising demand for healthy and tasty products for Southeast Asia's active aging market. Speakers include:

Satoshi Fujita, Ph.D., Professor, Ritsumeikan University, Japan
Pauline Chan, RD, Director, Food and Nutrition Consultants, Singapore
Martin Teo, Technical Director - Food Applications, USDEC Southeast Asia

The webinar will air at 11 AM in Singapore (10 PM EST). Register here. To request additional information about this webinar, please email Keith Meyer (kmeyer@usdec.org).

[1] USDEC and Spire Research and Consulting, 2019.