HIGHLIGHTS: OCTOBER 8, 2021
• August cheese exports increase 18%

• Recommendations for DOT to alleviate port congestion

• USDEC urges USTR action on China dairy trade
• Michigan dairy farmer to address impact of competitiveness gaps
• GDT shows international buyers paying a premium for near-term delivery
• Egypt alters its Halal requirements
• Learn the investment strategies of global competitors
• Two upcoming dairy ingredient events in South America
• Three USDEC member companies building new dairy facilities

Featured
August cheese exports increase 18%
An 18% boom in cheese volume helped lead U.S. dairy exports to another positive month in August, despite continued port issues.
Total U.S. exports rose 13% (milk solids equivalent) compared to the previous August and are up 12% year-to-date, keeping exports on a record pace for 2021. August represented the seventh straight month of year-over-year export growth.
Cheese wasn't the only star in August. High-protein whey shipments were up 22%.
On a value basis, August exports increased 26% year-over-year to $689.5 million. Through the first eight months, U.S. dairy export value was $5.2 billion,16% more than 2020.
Cheese growth bucks usual seasonal trend
Historically, U.S. cheese exports tend to decline seasonally in the back half of the year. On average, exports in the second half have been 12% lower than in the first six months. However, strong July and August numbers in 2021 have bucked that trend, with both months growing considerably.
U.S. cheese exports for the rest of the year are anticipated to remain strong. Global demand for cheese is growing faster than normal with year-to-date global cheese trade up 6% (compared to the average annual growth rate of 3%). This global uptick in demand paired with U.S. product availability puts the U.S. in a strong position to see robust growth in cheese exports through the end of the year.
Mexico's recovery powered August's growth
Exports to Mexico (+11,903 MT in milk solids equivalent) grew by more than twice the volume of any other market.
Milk powder volumes to our southern neighbor increased by more than 40% compared to a year ago (+9,488 MT).
The demand expansion was not limited to milk powders. Exports of whey products jumped 68% (+1,559 MT) with growth of 60% or more in all whey codes (WPC, WPC80+, dry whey and modified whey). Although smaller volumes, compared to ingredients, cheese to Mexico was no laggard either (+9%, +777 MT).
With improved vaccination rates, a recovering economy and reportedly insufficient domestic milk production, Mexico is returning to pre-pandemic import levels.
More trade data: For a fuller rundown, read "Seventh straight month of growth for U.S. dairy exports," in the U.S. Dairy Exporter Blog. In addition, check out the new USDEC Data Hub, which allows users to examine U.S. dairy exports by major product category and region. It also contains data on major dairy importers, global prices and milk production.



Trade Policy
Recommendations for DOT to alleviate port congestion
USDEC and NMPF will be submitting recommendations this month to the U.S. Department of Transportation (DOT) with 11 specific steps the agency could take to alleviate ocean port congestion, carrier cancelations and other supply-chain challenges facing American dairy exporters. We welcome member feedback on the draft comments.
Dairy industry recommendations include:
Identify ways of incentivizing ocean carriers to increase the loading of export containers versus shipping upwards of 70% of their capacity to Asian markets as empty containers.

Provide additional warehouse, labor and transportation capacity to make effective use of increased hours of port operation.

Establish, through the Maritime Administration, standards for port terminal sharing systems.
"We would like to emphasize the importance of pursuing both near-term and long-term remedies," USDEC and NMPF said in its draft comments. "Our industry urgently needs action to improve shipping conditions; progress on certain fronts should not await the ability to implement new steps on all conceivable supply chain areas."


USDEC urges USTR action on China dairy trade
U.S. Trade Representative Katherine Tai pointed out in a speech this week that the trade and economic relationship between the U.S. and China is one of "profound consequence."
A joint USDEC and National Milk Producers Federation (NMPF) statement welcomed the Administration's China strategy, given China's tremendous importance to global dairy markets and urged USTR to prioritize steps that would help USDEC members better capitalize on that market.
"American dairy farmers and manufacturers count on the ability for our products to meet China's appetite for dairy, yet retaliatory tariffs continue to weigh down our prospects there," said USDEC President and CEO Krysta Harden in the statement. "Long-term tariff waivers are critical to help unlock more of the potential in that market. In addition, it's key that the administration encourages China to boost its purchasing of major dairy commodities, such as milk powder and cheese that it is still primarily sourcing from other suppliers."
In her speech to the Center for Strategic & International Studies, Ambassador Tai called the bilateral relationship between the U.S. and China "complex and competitive." Watch her speech here. The strategies USTR cited consist of similar approaches to those deployed last year, coupled with a greater focus on building partners to tackle China challenges.


Michigan dairy farmer to address impact of competitiveness gaps
Doug Chapin, board chair for the Michigan Milk Producers Association and one of USDEC's Dairy Trade Envoys, will participate in a virtual roundtable discussion on Thursday hosted by Farmers for Free Trade.
The panel will focus on the growing market access disparities the United States is facing on with its export competitors. As the European Union and other major agricultural exporters continue to ink new trade deals and benefit from tariff concessions, American farmers and the communities they support are increasingly left at a disadvantage.
This virtual townhall is aimed toward highlighting the need for greater market access opportunities and encouraging the U.S. government to pursue new trade agreements to level the playing field for farmers and ranchers throughout the country. The event is scheduled to begin at 10:30 a.m. ET on Thursday, Oct. 14. Register here.

Market Summary
GDT shows international buyers paying a premium for near-term delivery
A relatively uneventful Global Dairy Trade (GDT) auction on October 5 showed a largely sideways price movement. Whole milk powder was the only product to slide, but at just a 0.4% decline to $3,749/MT, is not a major cause for concern. Otherwise, all other products moved slightly up. Skim milk powder prices increased a respectable 0.5% to $3,315/MT, and cheddar cheese gained 0.7% to $4,297/MT. AMF and butter were similar, both up just 0.4%, to $5,984/MT and $4,878/MT, respectively. Buttermilk powder was the only product to break out – climbing 9.7% to $3,688/MT – but considering how thinly traded the market for BMP is, its impact on the average winning price (which was the same as last auction) was minimal.
Buyers need to pay a premium to secure near term delivery with the earliest contract periods climbing higher than later deliveries, particularly for SMP and butter.
North Asia participants were conspicuously absent again from the auction after driving global demand for much of the past year. Whether China's demand is waning or if it is simply purchasing more volume off auction is unclear. Regardless, market fundamentals – namely increased activity from Southeast Asia and the Middle East-North Africa alongside slower supply growth in the Northern Hemisphere – still support a tight market in the near term.
Download USDEC pricing app
Price trends are always at your fingertips. All you need to do is download the USDEC Commodity Prices Finder app, a mobile resource for tracking a variety of USDA dairy commodity prices. It is available at the Apple Store for iOS devices and Google Play for Android.
Exchange Rates Relative to the U.S. Dollar


(indexed to Jan. 1, 2018)
Click
here
to view interactive version of chart.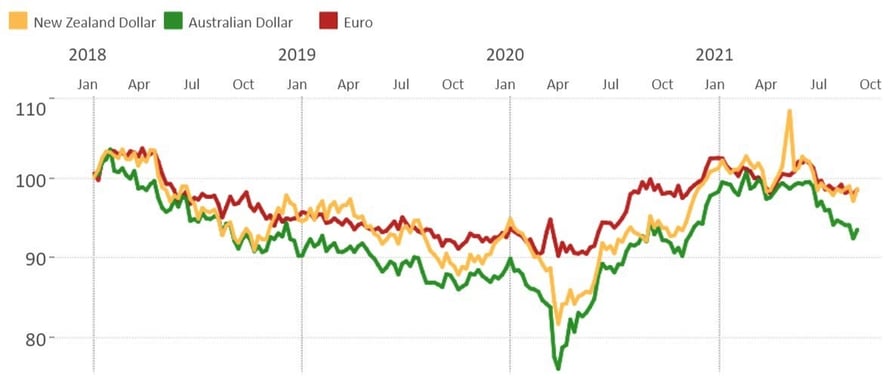 If line is trending up, currency is strengthening vs. U.S. dollar (U.S. dollar is weakening). This is favorable for U.S. competitiveness. If line is trending down, currency is weakening vs. U.S. dollar (U.S. dollar is strengthening). This is unfavorable for U.S. competitiveness. Currency exchange rates are calculated for Wednesday of each week. Source: Oanda.com.


Member Update
Egypt alters its Halal requirements
As indicated in last week's USDEC Member Alert, Egypt has introduced new requirements for imported milk and milk products (that need a veterinary certificate) mandating that the milk/milk products be Halal certified, ship with a Halal certificate, and be labeled as such.
The requirement appears to apply to all dairy products regardless of the country of origin. The new Halal standards require dairy products to be certified as Halal exclusively by IS EG HALAL. As such, no Halal certifier other than IS EG HALAL will be acknowledged by Egypt for foreign products. October 1, 2021, was cited by Egypt as the new effective date for this requirement.
The Egyptian government has provided very little information in writing, including whether the requirement applies to product already en route to Egypt. Reports from the New Zealand government and USDEC's local office indicate, however, that the new IS EG Halal certification requirement may apply solely at the point of application for new import permits. (Exporters are advised to consult with their importers given the lack of official confirmation of this information).
Egypt plans to also require other products containing milk, but which do not require veterinary approval, to be Halal certified by IS EG at a later date. Based on reports, this may be as soon as January 1, 2022. The Egyptian National Food Safety Authority (NFSA) has not yet issued a list of products or exact implementation date(s). However, NSFA stated that the list will likely be based on the Halal Standard Specification number 4249 of the year 2014.
USDEC has underscored to the U.S. government our strong concerns with the disruption to trade this new mandate is creating and the burdens the new requirement is likely to place on exporters due to the opaqueness of the process and reports of the exorbitant cost the certification may entail. USDEC will continue working closely with FAS and USTR to gain clarification on Egypt's new requirements and seek needed changes.
USDEC will provide further information and updates once they are obtained. In the meantime, if you have any questions, please contact Bryan Jacoby at [email protected] or Shawna Morris at [email protected]



Events
Learn the investment strategies of global competitors
Have you ever wondered where and why our largest export competitors are making investments, and what is driving them?
Join Anup Singh, principle at solera advisor, LLC, and Steve Spencer, director of Freshagenda, as they examine the main drivers of those investments, trends they are chasing and the strategies they use to position themselves for favorable access to target markets.
The discussion will happen the afternoon of Tuesday, Oct. 19, during the USDEC Fall Annual Membership Meeting. It will be moderated by USDEC's Gail Legaspi-Gaull. A Q&A will follow.
The meeting will be the first hybrid in-person/virtual USDEC membership meeting in history.
To download the full preliminary agenda for the meeting, click here. To register, click here. In addition, you can invite a colleague to attend as well by clicking here. (Please note: Colleagues will need a USDEC log-in to register—to request a log-in, please contact Luke Waring at [email protected] or Weston Abels at [email protected].)




Global Marketing
Two upcoming dairy ingredient events in South America
USDEC is a sponsor for two upcoming virtual dairy ingredient events in South America.
Oct. 21-22: Food Ingredients South America (FISA) – Trends to Watch 2021. USDEC sponsorship includes being featured on the website and pre-show publicity. USDEC's in-depth protein-related Q&A will be included in a pre-event and in the "FISA e-book." In a pre-recorded presentation to conference attendees, USDEC's Terri Rexroat will speak on dairy protein sustainability and USDEC's Kara McDonald will shed light on the "U.S. Sustainability Journey."
Oct. 27-29: VII International Congress of Food Ingredients and Additives (in Peru). As a sponsor, USDEC's name/logo will be included on the event website and in pre-show advertising. Dairy ingredient specialist Mary Wilcox, founder of Significant Outcomes, will give a presentation (with live Q&A) on "Functionality: Navigating the U.S. Dairy Proteins Landscape," focusing on the advantages of dairy proteins in comparison to plant proteins.
On Sept. 24, USDEC was also a primary sponsor for the 2021 ITAL (Brazilian Institute of Food Technology) ONLINE Requeijao Making Course, which included use of the USDEC logo on all materials, presentations on dairy protein sustainability and member sustainability videos from Idaho Milk and Leprino Foods.




Company News
Editor's note: Three USDEC member companies – Leprino Foods, Agropur and California Dairies, Inc. – are building new dairy facilities. Details follow.
Leprino Foods to build new facility in Lubbock, Texas
Leprino Foods Company has announced plans to begin construction of a new, state-of-the-art 850,000 square foot dairy manufacturing facility in Lubbock, Texas. Construction of the new facility is expected to begin in June 2022 and will be completed in two phases by early 2026.
The new Lubbock site represents an $870 million capital investment and is expected to employ approximately 600 full-time personnel when it is fully operational. The facility will produce mozzarella cheese and dairy ingredients. The plant will supply some of the world's leading food companies to help meet consumer demand for cheese and whey products both domestically and internationally.
The plant will be built with sustainability in mind. The new facility will be one of Leprino Foods' most sustainable plants and will be constructed with special features that will help decrease GHG footprint and water footprint, such as capturing heat from equipment like pasteurizers and using it elsewhere to reduce fuel consumption; advanced LED lighting and sensors; smart controllers on refrigeration systems to reduce electrical load; and water capture and reuse throughout the facility. (Company reports)


Agropur announces $168 million expansion in Wisconsin
Canadian dairy cooperative Agropur has announced it will build a new cheese and dairy ingredients facility just north of an existing facility in Little Chute, Wisconsin.

The $168 million investment is Agropur's second largest ever in the U.S. after the expansion of its Lake Norden, South Dakota, facility in 2018.
The new Wisconsin is expected to be fully operational by early 2023.

Wisconsin Gov. Tony Evers has announced $4.5 million in business tax credits for the project. (Dairy Reporter, 10/05/21; WBAY news staff, 10/04/21)
California Dairies, Inc. to open new milk bottling facility
Groundbreaking recently took place at the future site of a new ultra-high temperature (UHT) and extended shelf-life (ESL) milk processing facility for California Dairies, Inc.
CDI is building this state-of-the-art milk processing facility under the name Valley Natural Beverages.
The project is being built in northern Kern County, California, a region with significant milk production but no local processing facilities. Not only will this investment significantly reduce the transportation distances of milk produced in Kern County, it will further demonstrate CDI's commitment to sustainable solutions by incorporating renewable energy sources and waste conservation as key priorities in the facility and operational design.

"This is an exciting day and marks the launch of a transformational investment being made by our farmer-owners," said Brad Anderson, CDI's president and chief executive officer, as he made opening comments at the Sept. 29 groundbreaking.
The 220,000 square foot facility is expected to create approximately 100 new jobs when fully operational in 2023. (Company reports, 10/5/21)


Company news briefs
New Zealand's Happy Valley Nutrition says it has secured a supply agreement from "a respected European multi-national distributor of dairy products," as it seeks commitments for a new milk plant in South Waikato … Danone Egypt has launched a "Zero Food Waste" initiative in partnership with The Egyptian Food Bank. The company will donate its daily surplus of products to the Food Bank to benefit students and other eligible recipients … French dairy company Lactalis Group has acquired the European cheese brand Leerdammer. The purchase will allow Lactalis Group to establish itself at an industrial level in the Netherlands and will also boost its activity in Italy, Germany and Ukraine … Ed Mullins will step down as CEO of Prairie Farms Dairy and assume the role of senior executive officer. Matt McClelland will become the new CEO, effective Jan. 1, 2022. (Dairy News, 9/28/21; USDEC's Middle East office; Dairy Reporter,10/04/21; Dairy Foods, 10/4/21)

In Case You Missed It...
U.S. Dairy Exporter Blog
Market analysis, research and news subscribe here
USDEC Twitter feed
Follow us here.