Marketing Events
Mexico Retail Promotions
July 1–October 31, 2017
Various Locations in Mexico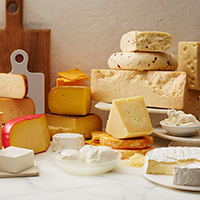 USDEC will conduct an in-store tasting and merchandising program to increase Mexican consumers' awareness of U.S. cheese. Shoppers will have the opportunity to sample various U.S. cheese varieties and learn more about the goodness of dairy and cheese in general through POP and easy-to-prepare recipes. Wherever possible, promotions may also cover other U.S. dairy products such as U.S. milk and ice cream.
Dates & Locations: The promotions will take place July - October in five major retail chains across six cities.
Retail chains
Cities

Walmart
Superama
Chedraui
La Comer
Soriana

Mexico City
Guadalajara
Monterrey
Cancún
Puebla
Cuernavaca
Interested in Participating? If you have products sold in the aforementioned retail chains and would like to be part of this program, please contact John Klees at jklees@usdec.org and share with us (1) which retail chains and city your products are in and (2) the complete contact details of your local distributors so our Mexico team may coordinate with them accordingly. Please note, inclusion in this promotion is contingent on your company/your distributor donating the products to be used for the in-store samplings (Thank you in advance for coordinating with your distributor accordingly).