USDEC Seminar: Making Halal Work for You
October 16, 2019
Swissotel, Chicago, IL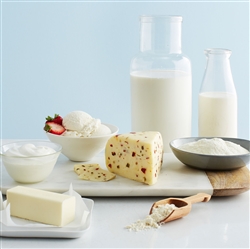 The U.S. Dairy Export Council's (USDEC) U.S. Dairy Halal Seminar is an educational forum for USDEC members to deepen their knowledge of the evolving dynamics of the global halal marketplace. Topics will cover both regulatory and marketing aspects of halal. On the regulatory side, we will aim to review the complex web of regulations in certain countries. Our marketing discussion will focus on the commercial benefits to customers/consumers in marketing halal-friendly U.S. dairy ingredients and cheeses. The seminar will have an export-centric lens focus on meeting regulatory needs to maintain market access, and customer/consumer needs to spur expanded U.S. dairy exports. The presentations will cover both basic information on what is halal / how to become halal, as well as a deep dive into successfully navigating an effective halal marketing strategy.

The objectives of this seminar are:
Shed light on the large, growing and shifting global halal food and beverage marketplace, in Muslim majority markets, and the implications for future U.S. dairy export growth prospects.
Review the impact of third-country exports, tourism and consumer lifestyle considerations in driving halal demand in non-Muslim majority markets .
Ensure membership is up-to-date in awareness and understanding of recent changes to halal requirements (e.g. Indonesia)
Demystify
-What is halal (vs. haram) in a dairy products context
-How halal requirements differ across countries
-Why a global unified standard does not, and is unlikely to, exist
Help navigate
-What it takes to secure and ensure maintained halal compliance (e.g. on-going audit/verification)
-How to successfully go about the process of obtaining halal certification for "xyz" countries
-Which U.S. halal certification bodies are accepted/recognized by which countries
To view the agenda for the seminar, click here. To register, click here.

Contact Bryan Jacoby at (703) 528 3049 or bjacoby@usdec.org with questions regarding the seminar or to book a time slot on Thursday, October 17 for a one-on-one session with our MARA and/or overseas representatives.